SAACI Gallery, Saviano ‒ fino al 10 ottobre 2018. "Artist in the world – Never Ending Art Trip" è il titolo della mostra itinerante di André Smits e Monika Dahlberg che fa tappa alla SAACI Gallery ‒ Sabato Angiero Arte Contemporanea Italia di Saviano. In una versione-omaggio al capoluogo campano.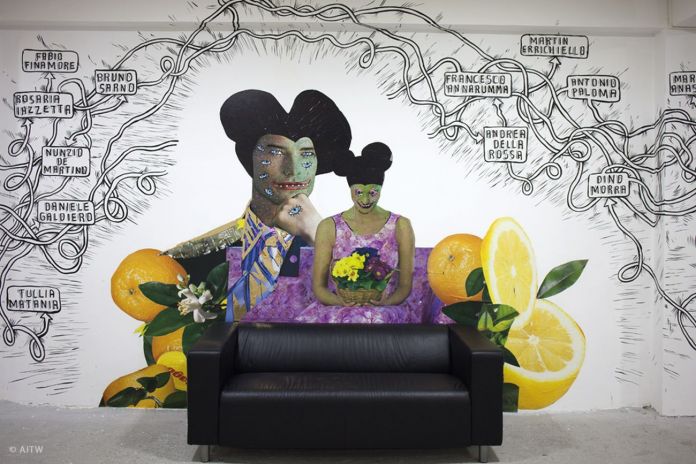 La mostra è un progetto che si articola in due ambienti. Nel primo, André Smits (Giessen, 1960) presenta il reportage fotografico in cui galleristi, artisti, curatori e collezionisti di Napoli e dintorni sono ritratti rigorosamente di spalle nei propri studi, con l'intento di dare il compito all'ambiente di svelare la personalità dell'individuo fotografato. Nella seconda parte della galleria invece, il percorso è tutto da leggere, letteralmente: Smits offre un'osservazione più dinamica, grafica del progetto: traccia nero su bianco i nomi di coloro che in qualche modo hanno segnato la sua esperienza sul territorio.
Una LinkMap, appunto, realizzata dapprima su carta con penna a sfera grazie all'inconfondibile tratto dei doodles (scarabocchi), e poi riproposta sulle pareti della SAACI Gallery come murale per offrire una lettura del concetto relazionale sicuramente di maggiore impatto, più ampia. Christian Leperino, Roxy in the Box, Luigi Fermariello, Rosaria Iazzetta, Barbara Karwowska, Franz Iandolo, Angelo Volpe e tanti altri, fino ad arrivare alla SAACI Gallery, al direttore Sabato Angiero e al curatore della mostra Domenico Esposito.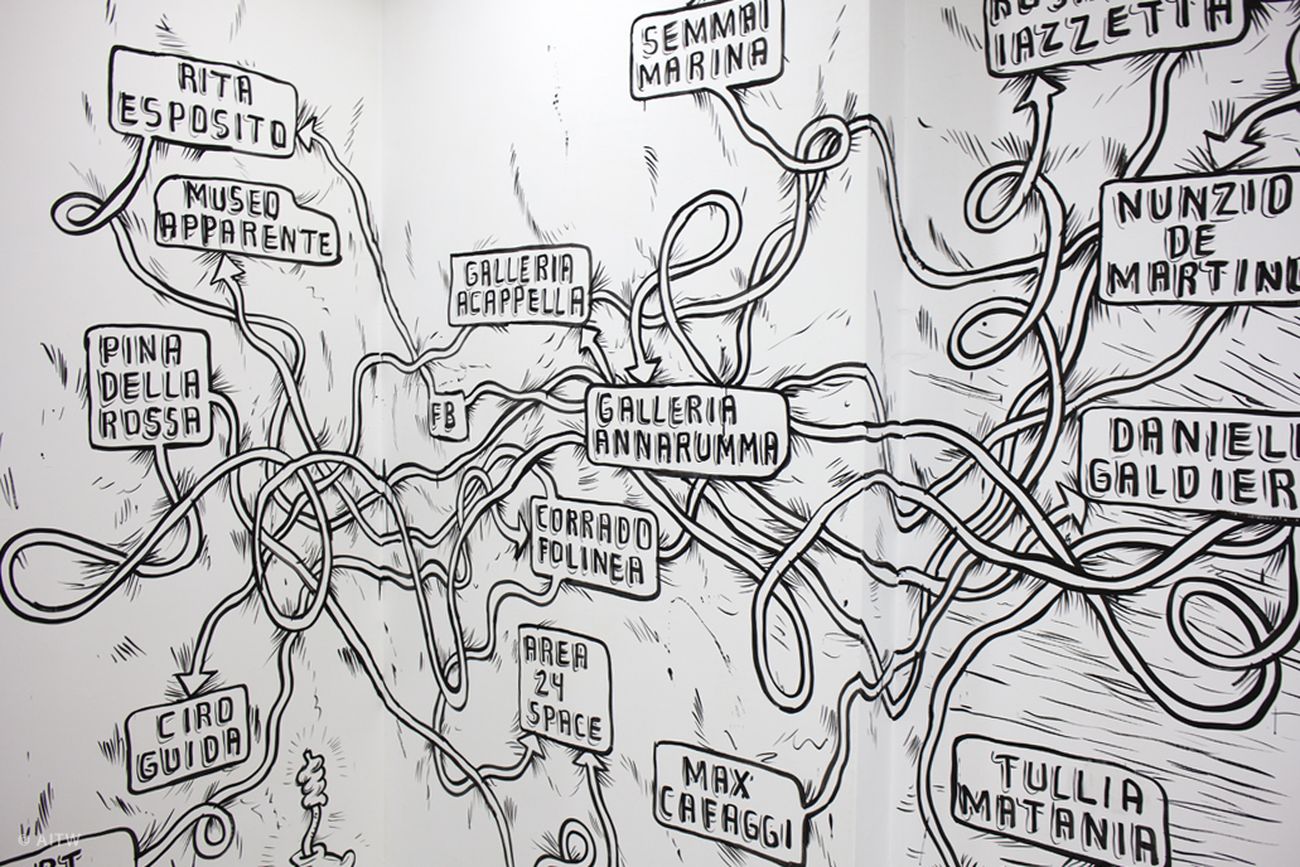 LA COLLABORAZIONE CON MONIKA DAHLBERG
Tra un doodle e l'altro ad attirare l'attenzione è l'intervento di Monika Dahlberg con unbounded stream of images: un collage di immagini offre un'ulteriore interpretazione del lavoro svolto da Smits. Foto e viaggi degli artisti sono costantemente aggiornati sul sito ArtistInTheWorld.com che, in occasione del decimo anno del progetto, a oggi conta più di 4mila fotografie scattate in giro per il mondo e archiviate dall'Istituto di Storia dell'Arte olandese a L'Aia.
Dopo una settimana di intenso lavoro in galleria, in totale sinergia, gli artisti hanno realizzato un prodotto che fa riflettere su quelli che sono i "gradi di separazione", così definiti nel 1929 nel racconto Catene dallo scrittore ungherese Frigyes Karinthy. Secondo la teoria, ogni persona può essere collegata a sua volta a un'altra persona o cosa attraverso conoscenze con non più di cinque intermediari. Una teoria che oggi, nell'era dei social network, pare sia arrivata e circa tre gradi di separazione.
Per Artribune